Albatross Love ~ Fine Art Prints
---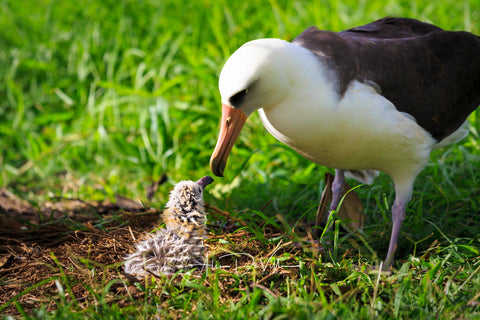 "Albatross Love"
A Laysan Albatross parent (Moli) and brand new baby albatross share in their special bond. The parents take turns watching and carefully protecting and sitting over the egg for 60-65 days until their sweet little fuzz ball is born sometimes going the entire time without food for themselves. Once they are full grown they spend years at sea at a time, without touching land, soaring the majestic oceans with their six foot wing-span. They are truly amazing birds.
Available in Metal Prints or Matted Photo Prints
Metal Prints Inks are infused directly into specially coated aluminum sheets for superb color and clarity. All metal prints come with a float mount, ready to hang. Scratch proof & UV-resistant they are a wonderful addition to your home or office. 
Matted Prints 8x10 image in a 11x14 white double matte. 
*Custom Sizes & Printing Options Available
Related Products
---